Representative Butler welcomes you to her page, but first let us introduce her to you!

A native of North Carolina, Representative Butler's roots run deep in the Old North State. Growing up in NC is such a source of pride for Deb. She remembers thinking how progressive North Carolina was as a southern state back then.
Our roads, our public education system, and our community college and university systems served as models nationwide and were the envy of other states. She looks forward to continuing her service to the citizens of NC as we work together to guarantee a stellar public education for all of our children, to build state of the art infrastructure, and to cultivate a culture that welcomes new businesses to NC. There is still much work to do to rebuild our national reputation, but she is eager and optimistic about the future of NC and wants to continue to be a part of it!
News
Friday, March 11, 2022 5:50 PM
Rep. Deb Butler Recognized By Wilmington City Council
Mayor Bill Saffo recognized state Representative Deb Butler for being a tireless advocate for the City this past year. He cited legislation that Butler introduced in the General Assembly, including bills to expand electric vehicle infrastructure, the detection and reporting of PFAS and other industrial waste and ensuring polluters pay for their actions.
Saffo also praised Butler for advocating for the state's film industry, which just had its most successful year ever, totaling over $400 million in spending statewide. Additionally, Saffo praised Butler for voting against a bill that would have stripped local governments of the ability to regulate short-term rentals.
"It is truly an honor and a privilege to represent this community. The job is not always an easy one but is always one that enriches and builds my spirit. When I walk my community and feel it's welcoming spirit, I know that I am in the right place doing the work I was intended to do, bringing me such fulfillment," Butler said.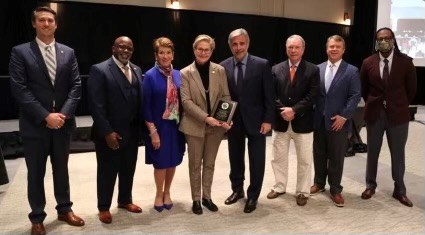 ---
---
Monday, December 13, 2021 4:47 PM
Deb's Floor speech about Voting Rights Legislation and Democracy
---
Monday, December 13, 2021 4:37 PM
Insurrectionist seated in North Carolina House of Representatives
Zerlina Maxwell Interview with Deb Butler on MSNBC Peacock Nov 3, 2021
---
Wednesday, December 8, 2021 10:47 PM
Butler explains,
"Billions of dollars are coming to remove the toxic forever chemicals that have rained down upon us for over 40 years."